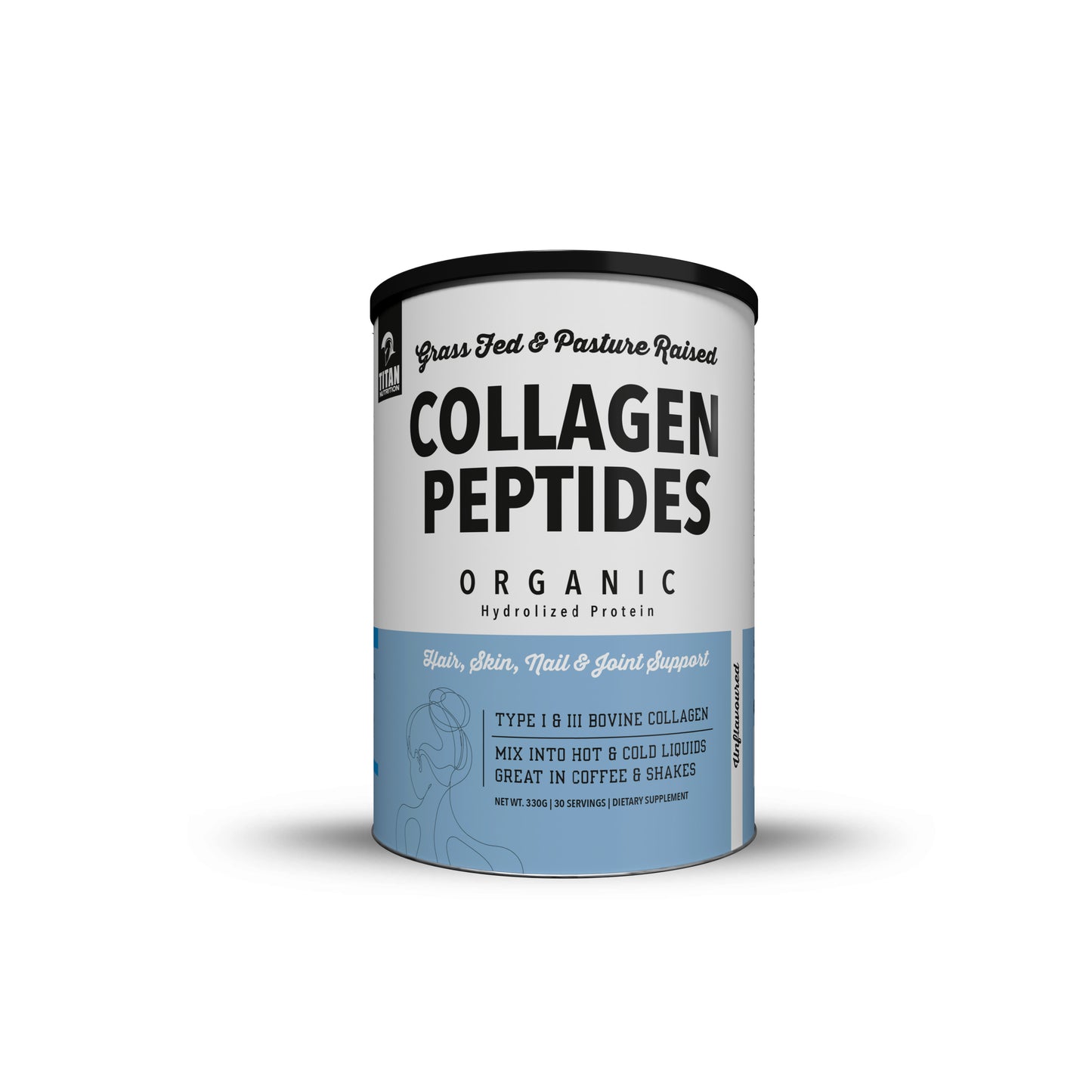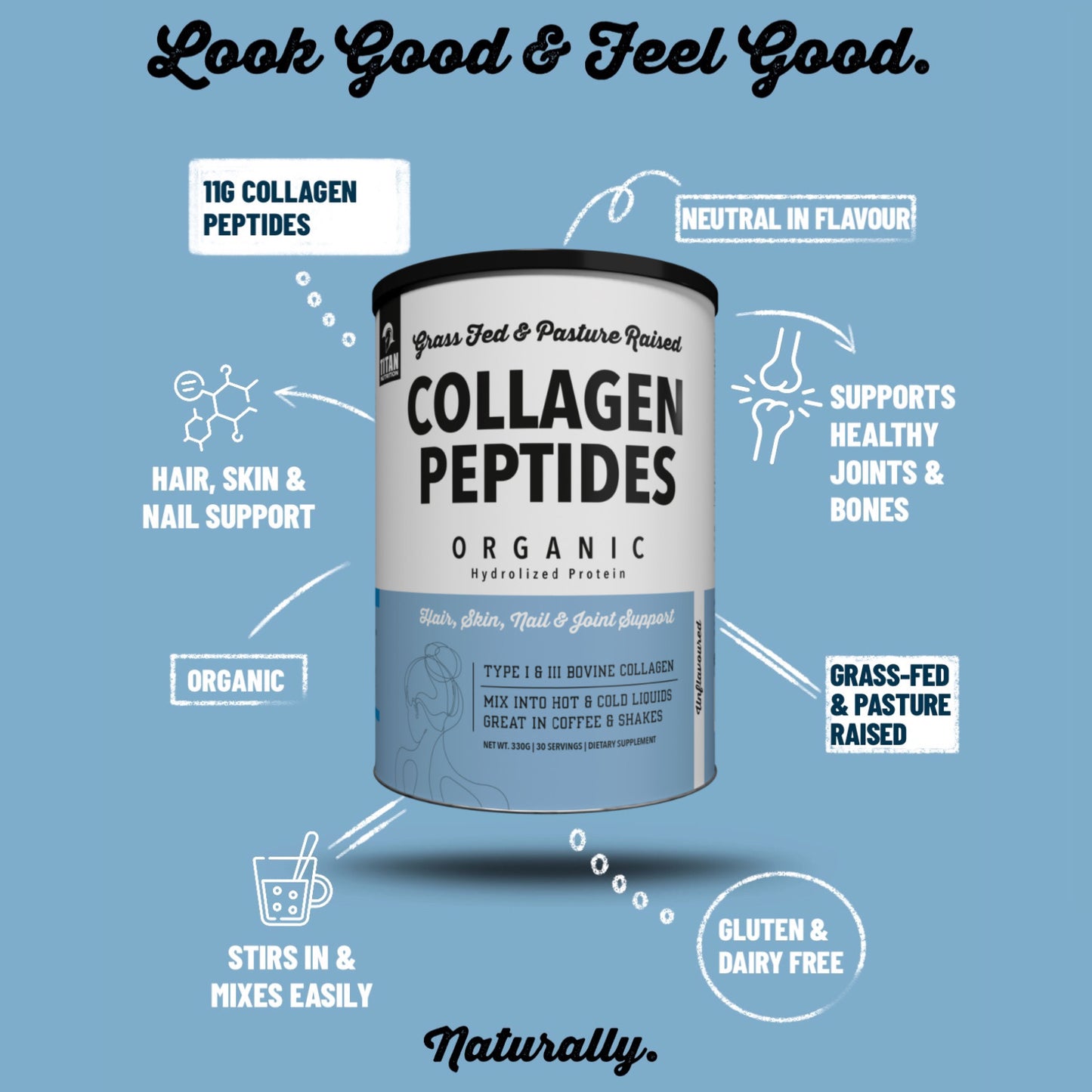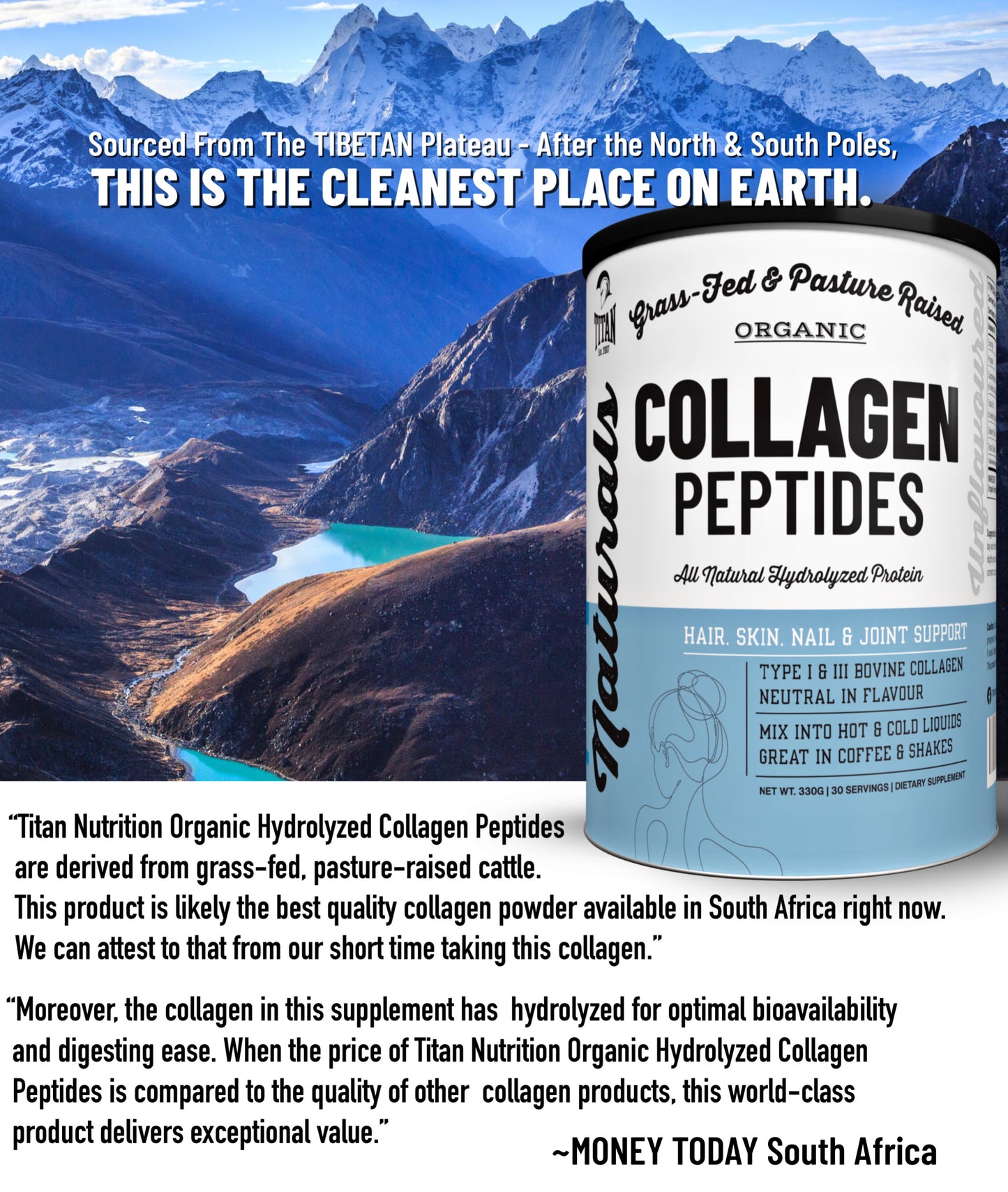 COLLAGEN PEPTIDES Unflavoured, 30 Servings Net Wt.330g
Regular price

R 369.00

Sale price

Unit price

per
All-Natural, Organic, Grass-Fed & Pasture Raised Hydrolyzed Collagen Peptides
Look Good & Feel Good with our Organic, All Natural Hydrolyzed Collagen Peptides.
With 19 naturally occurring amino acids, our easily digestible Titan Naturals Collagen Peptides are sourced from Organic Grass-Fed & Pasture Raised Bovine. Direct from the Tibetan Plateau, after the North & South Poles this is the 3rd cleanest place on earth.
Free from dairy, gluten, soy, hormones & antibiotics. And contains no preservatives, additives, fillers or flavourants. Our Collagen Peptides mix easily in hot or cold drinks.
Your New Wellness Routine: Add Titan Naturals Collagen Peptides To Your Morning Cup Of Coffee Or Smoothie, It Is So Easy To Use!
What Is Collagen:
Collagen is the most abundant protein in the body & helps to give structure to your hair, skin, nails, bones, ligaments & tendons. Your body's collagen production declines as we age. Adding collagen to your diet will improve mobility, give you healthy shiny hair, skin that glows & strong nails.
Wellness Benefits:
11g of Organic Grass-Fed Pasture Raised Collagen supports healthy skin, hair, bones & joints.
 Connective Tissue: With 19 amino acids to support tendons, ligaments & cartilage.
 Gut-Friendly: Hydrolyzed for easy digestion & absorption for maximum benefit.
 Easy To Use Soluble in hot or cold liquids, including coffee & smoothies. Mixes easily into your favourite meal or recipe.
 Expertly Sourced: Our Organic Collagen Peptides is sourced from Grass-Fed Pasture Raised Bovine - to ensure a high quality & sustainable source of this powerful ingredient.
 Dietary Compliant: Our Collagen contains no Gluten, Dairy or Soy. It is Paleo & Keto Friendly.
And Halaal Certified.
What Type of Collagen are our Collagen Peptides?
We use only the Highest Quality Source of Collagen,
Titan Collagen Peptides Are 100% Type I & III - Organic, Grass-Fed & Pasture Raised Bovine Collagen.
 Pasture-Raised, Grass-Fed animals are provided with abundant fields to roam freely & graze on native and cultivated pastures. Our Collagen is Organic, meaning these animals received no hormones or antibiotics.
Titan Collagen is Hydrolyzed for better digestion & quick absorption by the body for maximum benefit.
What Is Type I & Type III Collagen?
 - Type I Collagen is the most prevalent type of collagen in the body, this collagen is primarily for preserving the levels of collagen in your skin, hair & nails. It is a major component in your tendons, organs & bones.
- Type III Collagen is generally found in reticular fibres like bone marrow. Making this vital for bone strength & preventing bone loss. (Osteoporosis)
The natural levels of collagen in your body start to decline after the age of 25. A decrease in collagen results in characteristics such as sagging skin, fine lines, thinning hair & brittle nails.
Adding Collagen Peptides to your wellness routine is vital, especially to help you stay active while you age.
Titan Naturals Organic Collagen Peptides, the first Organic Grass-Fed & Pasture Raised Collagen Peptides in South Africa.
DISCLAIMER: This is a complementary medicine and has not been evaluated and verified by the South African Health Products Regulatory Authority for its quality, safety or intended use. Use of this product must not substitute the obtaining of medical advice from a registered health professional for any health conditions you may have. To avoid an adverse reaction, please obtain advice from your medical practitioner if you are pregnant/breastfeeding, have a medical condition, or are taking any medication.